How to use Support-A-Creator Code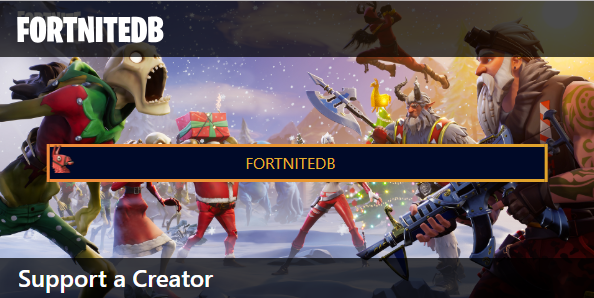 New code is FDB
Q : How to use Support-A-Creator Code
Head over to your item shop  

. On the bottom right of the screen, you will see a button, type in the code in the text field

Click Accept.
If everything went correctly you will see the code on the top right. You can apply the support a creator code in both game modes : Save The World and in Battle Royale in the store section.

Q: WHAT IS THE EPIC GAMES SUPPORT-A-CREATOR PROGRAM?
Epic's Support-A-Creator program enables Creators to earn money from Fortnite and games in the Epic games store.
In Fortnite accepted Creators will receive $5 USD (or the local currency equivalent) for every 10,000 V-Bucks spent by players who elect to support them in-game. This applies to free V-Bucks that players have earned as well as any V-Bucks they've purchased. Fans declare their support for a Creator in-game by entering the Creator's Epic tag via the "Support a Creator" button, found in the Item Shop in Battle Royale, or the Loot tab in Save the World.
For games on the Epic Games store accepted Creators can share referral Links on their content channels or promote their Creator tag to their supporters to get credit for sales of games on the Epic Games store. Supporters follow Creator links or enter Creator Tags during checkout on the Epic Games store. Each game has a different revenue share for attributed sales set by the Developer but with a minimum rate of 5%.
Make sure to re-apply the code every 2 weeks.
For more details read up here https://www.epicgames.com/affiliate/en-US/overview